12" Anti-Blue Light 3D Screen Magnifier + Gooseneck Stand
"THE SOLUTION IS HERE,
WATCH MOVIES AND VIDEOS LIKE NEVER BEFORE"
If you watch a lot of movies and videos on your smartphone, and you want to relieve that visual fatigue and discomfort that comes from focusing on a small screen for extended periods of time, our smartphone screen magnifier is the perfect solution! WATCH MOVIES AND VIDEOS LIKE NEVER BEFORE: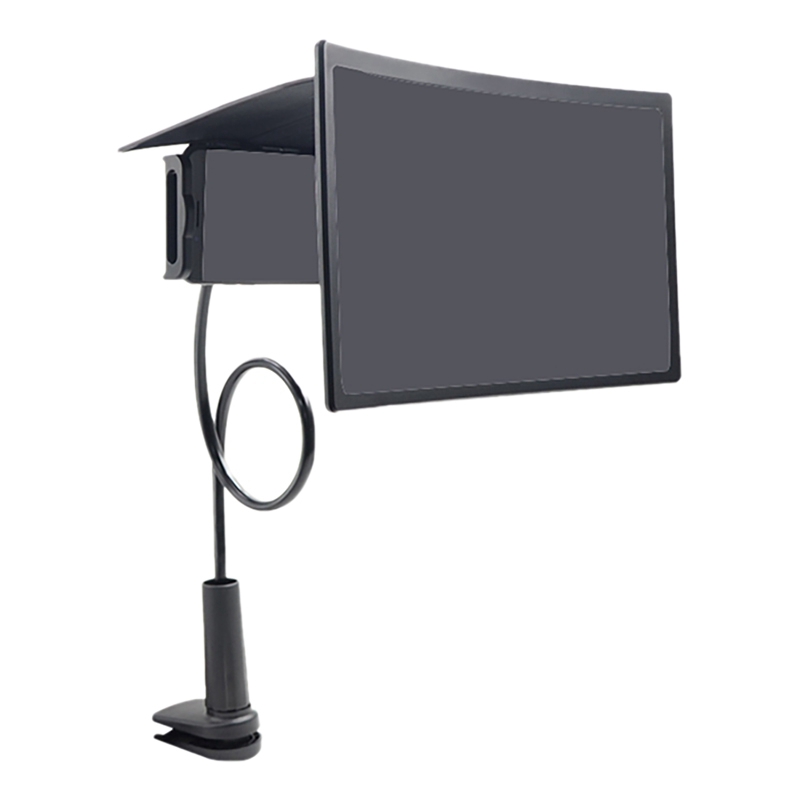 The screen magnifier works just like a phone projector screen, effectively doubling the size of your screen so you can enjoy movies and videos on your smartphone to the fullest in HD.COMPATIBLE WITH YOUR DEVICE:
The screen magnifier is specifically designed to fit most smartphones, so whether you have an iPhone or an Android phone, the magnifier projector screen is sure to work with your device.INCREDIBLY VERSATILE:
The screen magnifier is lightweight and portable, so you can easily take it anywhere you go. Although perfect for movies and videos, add a Bluetooth keyboard and use it for HD gaming!
PREMIUM QUALITY: We make our phone stand screen amplifiers the highest quality to ensure extended durability. We're convinced you will love your phone screen magnifier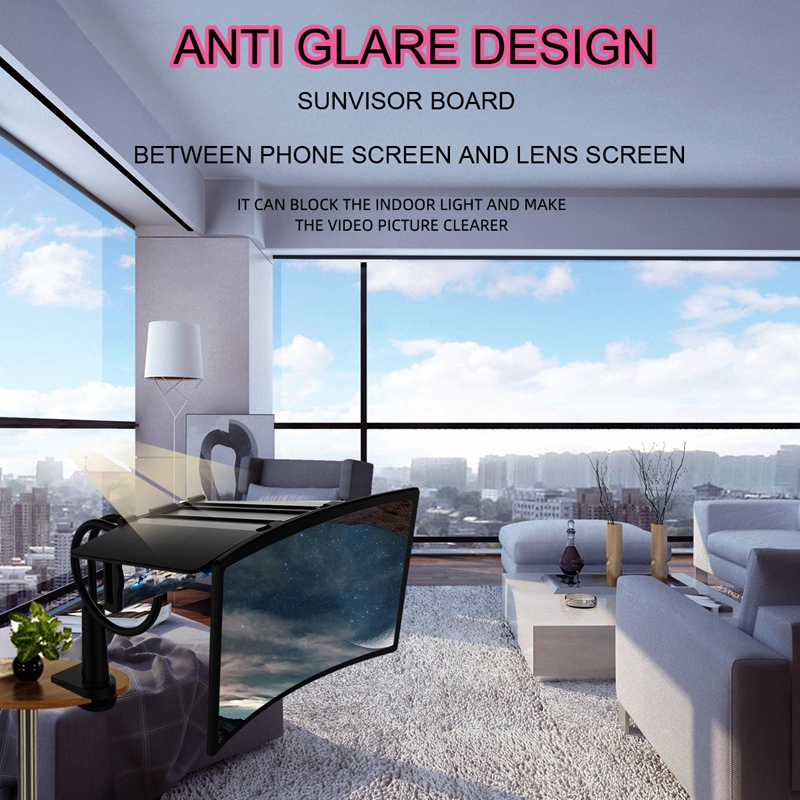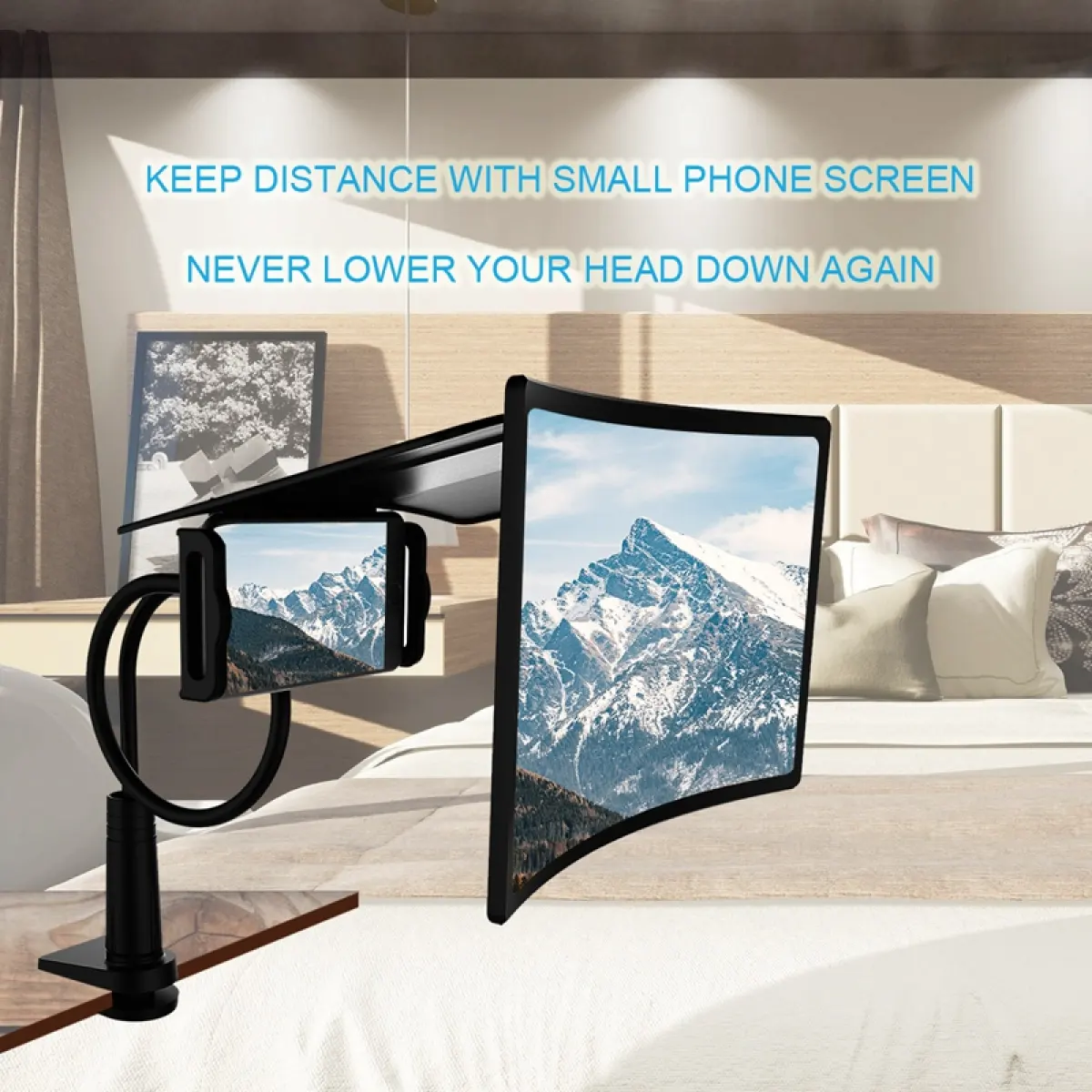 【2021 NEW VERSION】- 12" Anti-Blue Light 3D screen magnifier + gooseneck stand. With the gooseneck stand, the phone magnifying screen allows you to enjoy the movie with a large screen and free your hand.
【GOOSENECK STAND】- High-quality aviation-grade materials are enough for you to use all year round. The Claw Clamp of this phone holder is 360° adjustable,you can easily adjust your cellphone to most comfortable viewing angle and can be bent in any direction.
【ANTI-BLUE LIGHT CURVED SCREEN MAGNIFIER】- More comfortable to view than a flat-amplifier, with a larger field of view and reduced radiation. Magnifies your smartphone screen display 2-4 times to make it easier to watch and avoid visual fatigue.
【VARIOUS USING OCCASIONS】- Perfect for using mobile phone to watch movies & enjoy music in the bedroom, desk, kitchen, and office, free your hands. Designed with a non-slip base, the holder will not scratch the surface of your furniture.
【BEST HOLIDAY GIFT CHOICE】- A Good Present for kids, help them protect their eyes from close viewing distance.The Best Gift for the old,help them to see the screen more clear.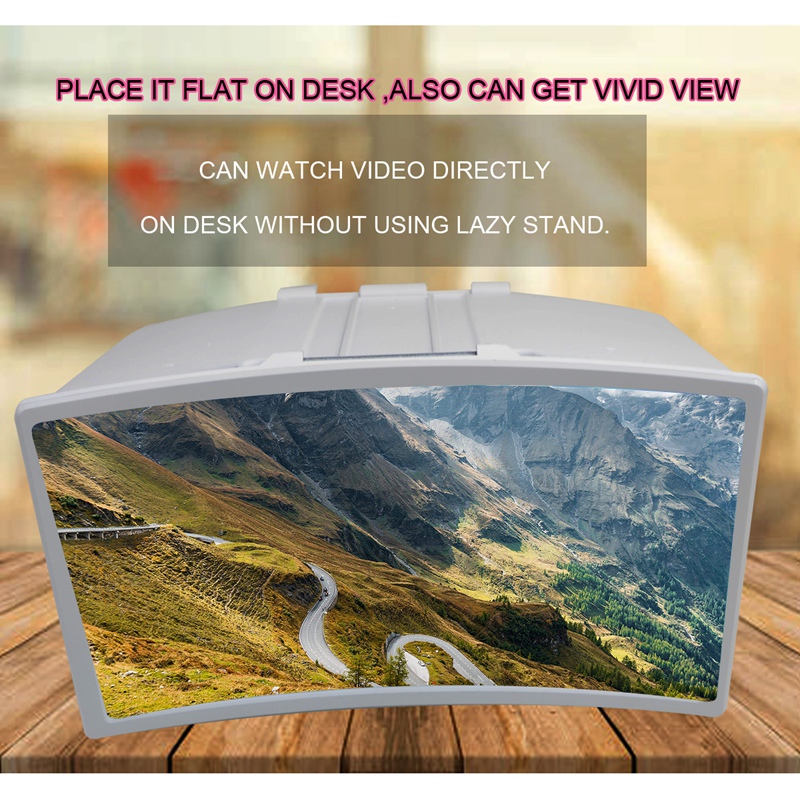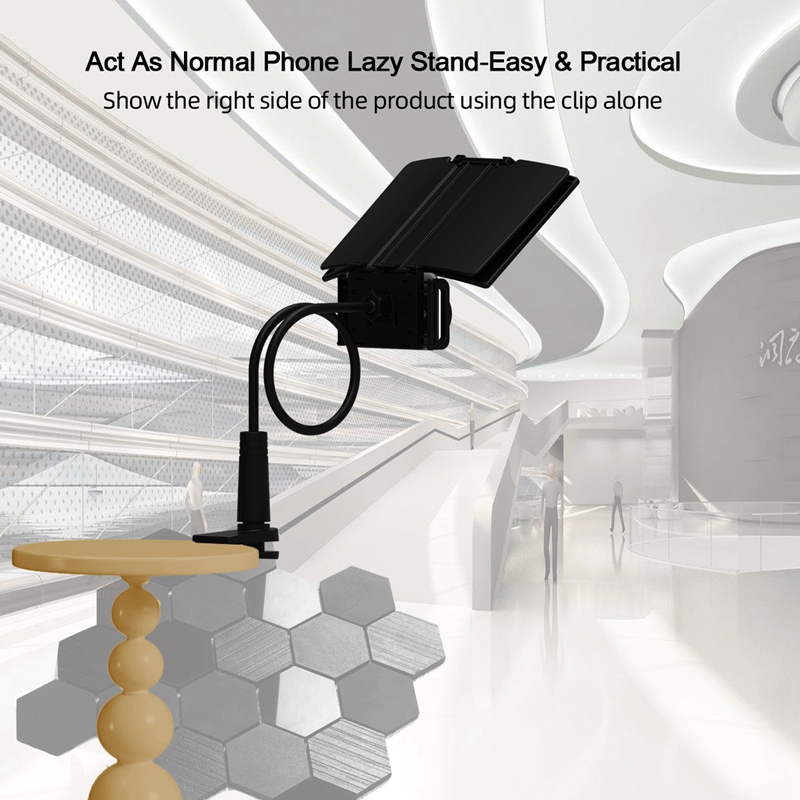 1)- You can put away the amplifier and use it only as a gooseneck phone holder
2)- More comfortable to view than a flat-amplifier, with a larger field of view and reduced radiation
3)- With sun visor to block light
4)- Anti-Blue Light. The 12" LATEST 3D HD phone screen amplifier protects eyes from fatigue and myopia
5)- Can be rotated and adjusted to any angle
Listen To What Our Customer Sent To Us After Using This Product
Great gifts for holidays. The screen was as durable as I had hoped for and the gooseneck arm was firm and stable. I liked that it could be moved to different locations and angles. Well liked gifts for teenagers.
Francis From Kano.
This works great but it is not for kids. Smaller hands that don't know to be gentle can break it. My wife uses it daily during lunch and has had no issue at all with it.
Patricia From Benue
This is way better than the one I got a couple of years ago. The neck is TWICE as thick & the magnified lens is clear. The mount is secure & opens over 2 inches so you can mount it pretty much anywhere. The whole thing is thick plastic. Just well built. I love it.
Grace From Lagos
Gave this as a gift. She loved it. Setting up to use it was very simple. she attached it to the bed. Good product.
Rhoda From Owerri
We Have Just 6PCs Left In Stock... And Because of the Difficulty in Sourcing This Product, Re-Stocking Takes About 3 Months.

If You Order Before The Countdown Timer Hits Zero... You Enjoy A Promo Price... So do It Now before the time elapses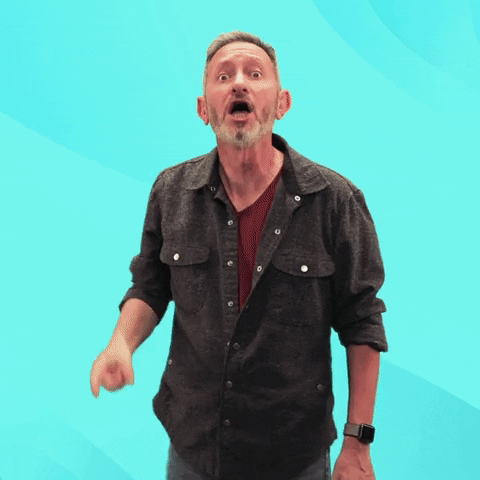 NORMAL PRICE :

N18,000




TODAY'S PROMO PRICE: N16,000
HOW TO ORDER
BUY 1 & GET 1 FOR FREE

N21,000



(Today's PROMO PRICE) N16,000
BUY 2 & GET 2 FOR FREE

N42,000



(Today's PROMO PRICE) N32,000
We have Secured Your Order And You Have Less Than 7 Minutes Left To Fill The Form:
Note - Please, please and please..... Be sure you are 100% ready for the product and that the money to pay at the point of delivery is available before you place your order, otherwise do not order at all.
If you also know you would be travelling and will not be available and dont have someone to collect it on your behalf...Please dont fill the order form. Thanks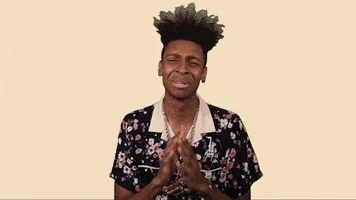 FOR QUESTIONS?
Call 081 001 336 79 :